Darwin's World, Nuclear Edition Terrors & Wastelanders Dispatch #1
Darwin's World, Nuclear Edition Terrors & Wastelanders Dispatch #1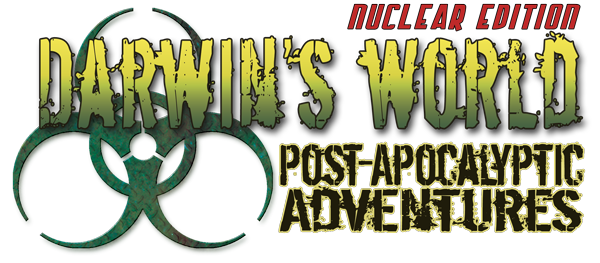 This release for Darwin's World, Nuclear Edition presents the Terrors & Wastelanders Dispatch #1. Each dispatch contains a combination of Terrors and/or Wastelanders for use in the Twisted Earth or other post-apocalyptic settings for the Savage Worlds role-playing game.
This dispatch includes:
Ghoul Hound: An irradiated canine that, much like humanity, has been altered by exposure to radiation and other wasteland hazards. They are often found in the company of their namesakes as pets and guardians.
Reaper Blossom: A mutated plant with an acidic bite that is capable of slowly moving around to find its food.
Scuttler: A former waterborne mollusk that has mutated to seek food on land. It is highly venomous and capable of camouflage, making it a dangerous predator.
Terrorwasps: Dog-sized mutant insects covered in a hard shell and armed with a lethally poisonous stinger. The scream-like sound made by their wings often serves as a warning they are on the hunt.
Both a color and print-friendly version of the product are included.
Darwin's World, Nuclear Edition products are published by Misfit Studios under license from RPGObjects.
All Darwin's World, Nuclear Edition products are designed using the SWADE edition of the Savage Worlds game system.
This game references the Savage Worlds game system, available from Pinnacle Entertainment Group at www.peginc.com. Savage Worlds and all associated logos and trademarks are copyrights of Pinnacle Entertainment Group. Used with permission. Pinnacle makes no representation or warranty as to the quality, viability, or suitability for purpose of this product.