Darwin's World, Nuclear Edition Terrors & Wastelanders Dispatch #2
Darwin's World, Nuclear Edition Terrors & Wastelanders Dispatch #2
Darwin's World, Nuclear Edition Terrors & Wastelanders Dispatch #2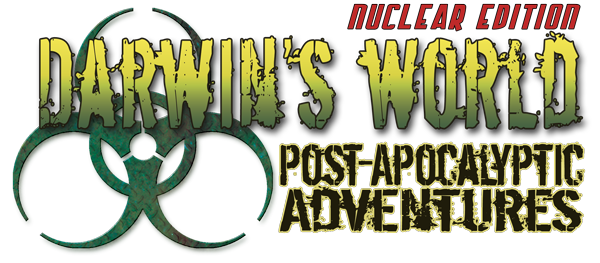 This release for Darwin's World, Nuclear Edition presents the Terrors & Wastelanders Dispatch #1. Each dispatch contains a combination of Terrors and/or Wastelanders for use in the Twisted Earth or other post-apocalyptic settings for the Savage Worlds role-playing game.
This dispatch includes:
Bawthok: A mutated herd animal and mount ideally suited for surviving deserts and sandstorms.
Caterwauler: A feline predator that can mimic voices to confuse and lure prey.
Fester: A large, maggot-like creature that paralyzes and then feeds on anything that gets too close.
Wendigo: A mutated animal rather than a creature of Ancient folklore, these ravenous beasts sleep for long periods but, when they awake, they won't stop feeding until their long hunger is satiated.
Both a color and print-friendly version of the product are included.
Darwin's World, Nuclear Edition products are published by Misfit Studios under license from RPGObjects.
All Darwin's World, Nuclear Edition products are designed using the SWADE edition of the Savage Worlds game system.
This game references the Savage Worlds game system, available from Pinnacle Entertainment Group at www.peginc.com. Savage Worlds and all associated logos and trademarks are copyrights of Pinnacle Entertainment Group. Used with permission. Pinnacle makes no representation or warranty as to the quality, viability, or suitability for purpose of this product.