Darwin's World, Nuclear Edition Terrors & Wastelanders Dispatch #3
Darwin's World, Nuclear Edition Terrors & Wastelanders Dispatch #3
Darwin's World, Nuclear Edition Terrors & Wastelanders Dispatch #3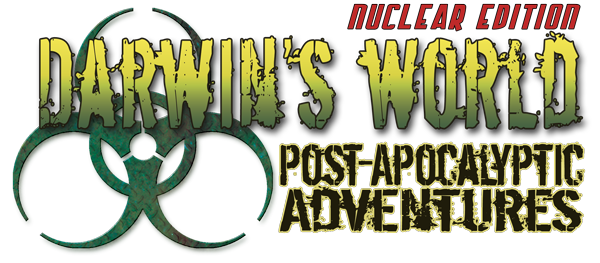 This release for Darwin's World, Nuclear Edition presents the Terrors & Wastelanders Dispatch #1. Each dispatch contains a combination of Terrors and/or Wastelanders for use in the Twisted Earth or other post-apocalyptic settings for the Savage Worlds role-playing game.
This dispatch includes:
Angoose: A mutated cow that defends itself by shooting toxic spikes from its flesh.
Blight Beetle: These mutated insects swarm to destroy precious crops and will kill anything that gets between them and their food.
Boulderhead: Rams that have mutated extremely thick skulls for attacking anything that gets their attention. They have also evolved to host parasites that inflict mange on predators.
Lake Dragon (Nessie): Giant, mutated descendants of crocodiles, these monsters hunt the Great Lakes' waters in a constant search for food.
Both a color and print-friendly version of the product are included.
Darwin's World, Nuclear Edition products are published by Misfit Studios under license from RPGObjects.
All Darwin's World, Nuclear Edition products are designed using the SWADE edition of the Savage Worlds game system.
This game references the Savage Worlds game system, available from Pinnacle Entertainment Group at www.peginc.com. Savage Worlds and all associated logos and trademarks are copyrights of Pinnacle Entertainment Group. Used with permission. Pinnacle makes no representation or warranty as to the quality, viability, or suitability for purpose of this product.