Battlemap - Harbour of Thieves
Battlemap - Harbour of Thieves
Battlemap - Harbour of Thieves Battlemap
Thieves or pirates always give you a good reason to begin an adventure. They can steal things that you have to get back, you could have to escape from them, they can pitch camp in a spot the adventurers have to sneak through, or if the members of your team are a bit more mercenary, the goal would more likely be to steal as much treasure as possible. Sometimes, imprisoned NPC's can be found in the caves, so if a character is killed, the party could accept new members into the group.
The isometric views can be used as visual aids for your players. When characters arrive in an area you can show the isometric picture to your players, do that they can see more details about the battlemap around them.
This product includes:
The big map broken into pages (10x7 inches for the easier printing), and poster sized color jpg images
"Bird's eye" view of map
Isometric view of map
200 dpi sized color jpg images for online rpg players
Image format:
1" game tiles
Size: 40'x40'
PDF: U.S. Letter, 200 dpi
Jpg: 200 dpi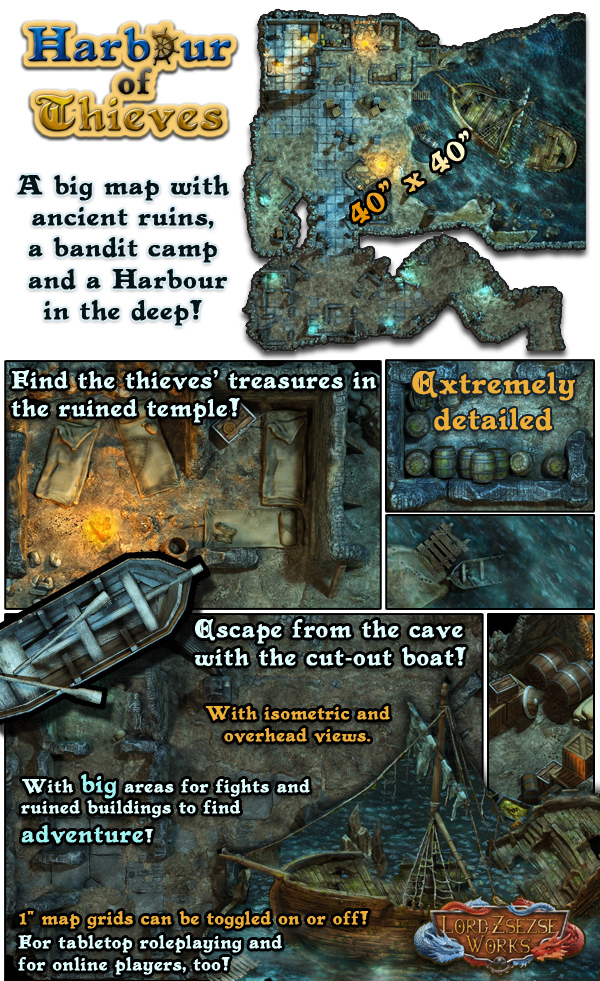 For personal use only.
Use Adobe Acrobat Reader 7 or higher.
Layers and buttons will work with this program.
You can download the newest version of Adobe Reader here: