Battlemap - Pirate & Ghost Ship
Battlemap - Pirate & Ghost Ship
Pirate and Ghost Ship Battlemap
Pirates...
A word that has caused sailors blood to run cold for centuries.
A name that has haunted our history for ages, yet there are worlds where piracy is still a part of everyday life.
But what happens if the crew goes to a watery grave weighed down by a curse? The barnacle and seaweed covered ship will follow its crew to the other side.
Lord Zsezse Works has made this set because we wanted for you to get your hands on a ship's battlemap that we believe is going to be a great accessory for every game you play on the high seas.
This is a three-masted and three leveled sailing ship. It's perfect to transport the biggest cargoes, but the cannons on deck appear ready for anything.
Our maps are made for 1 inch based figures, where one inch = 5 feet in the real world.
In the folders you can find the poster sized .jpg images. You may use them for Online Virtual Tabletop programs or to print in poster size in a press.
These maps are for personal use.
This product includes:
three maps broken into pages with and without water and grid
two styles: Pirate Ship and Ghost Ship
poster-sized Full-color images in .jpg format for online and offline gamers
Image format:
Grid size: 1 inch
U.S. - Letter, 200 dpi, PDF
jpg format pictures, 200 dpi
in Zip file (290 Mb)
One set, two ships. The real adventure is just beginning!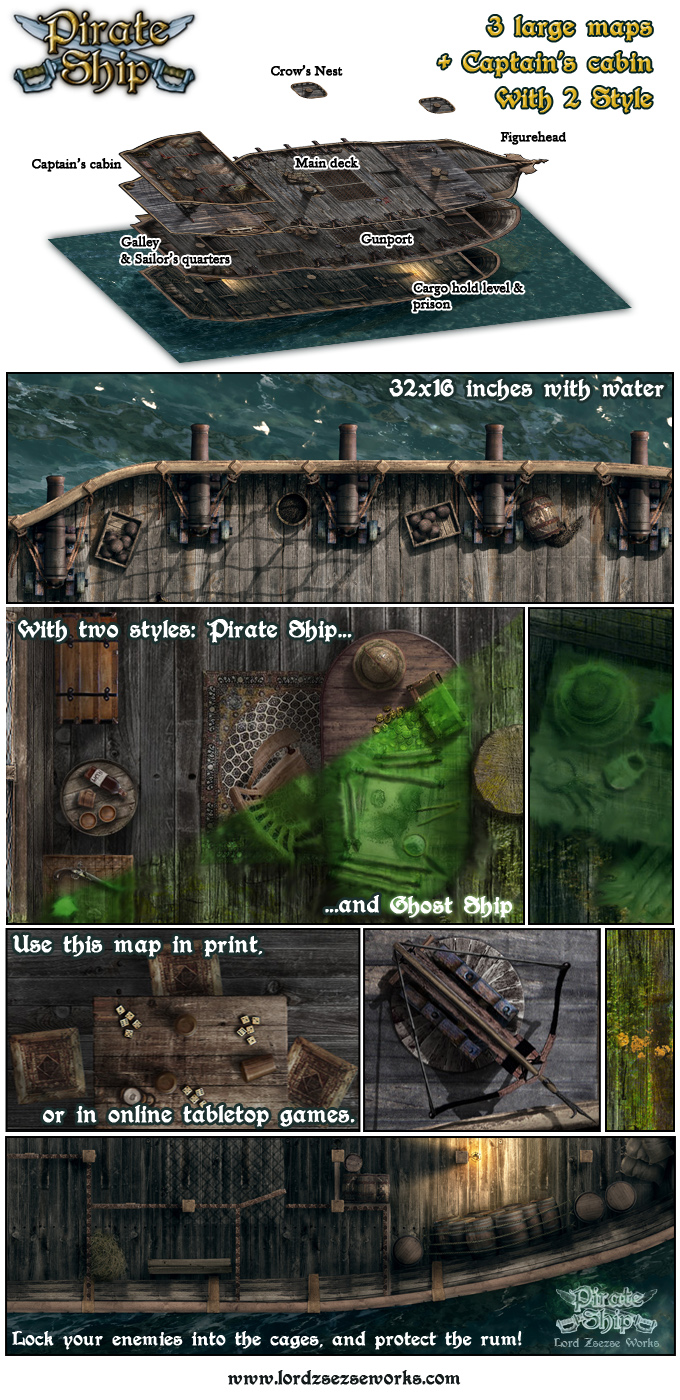 You need Adobe Acrobat reader 8 or later.
You can download the newest version of Adobe Reader here:
We wish you good gaming!
The file size is 300 MB, perhaps, you have to wait a bit more for the download.