Dark Crypts - Chambers #2
Dark Crypts - Chambers #2
Dark Crypts - Chambers #2 Battlemap
With these smaller maps you can play in a huge cemetery and visit every mausoleum and crypt that you would like without you met the same crypt twice. This set gives you a huge pack of chambers and let you to play a more diverse game.
You will find three version of rooms in this set:
Dark and empty, without any torches and tombs.
Dark, but includes the torches, tombs, etc...
With torchlight.
Use this set with our Ground Set #12 - Crypt and play in a huge and various crypt-maze system.
Before you print these maps you can switch on or off corridor connections on every map to use them with the crypt tiles.
What is the Ground Set?
The Ground Sets are 6x6 inch sized tiles, which you can build up your own maps.
The Ground Set #12 is one of our customizable set what means you can switch on/off everyhing on the tiles.
With the layers you can change the style of each map: empty, furnished and furnished with torchlight.
This set contains SEVEN various crypt rooms broken into pages, and poster sized jpg images for printing.
Image format:
1" game tiles
PDF, multi-layered, U.S. Letter, 200 dpi
JPG files, 200 dpi
Have a good game! :)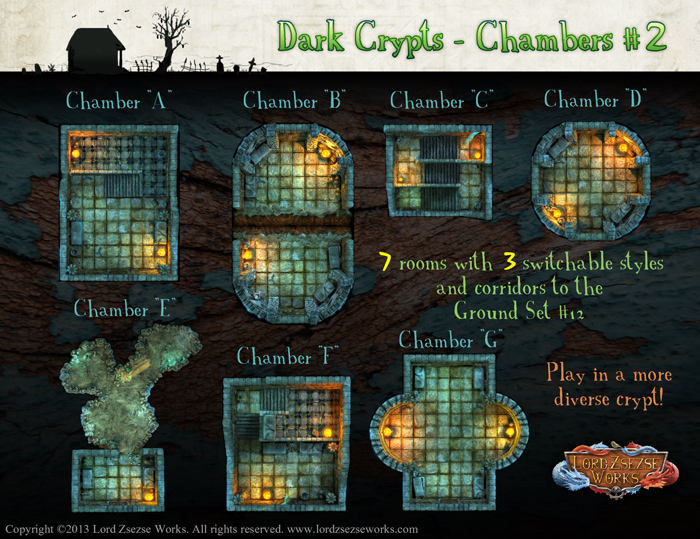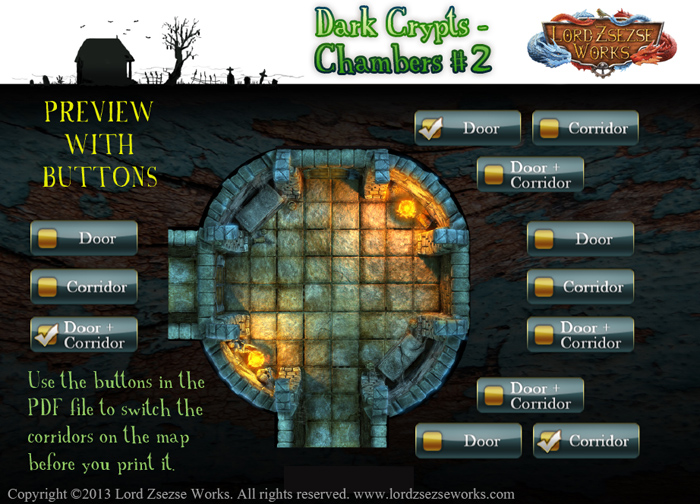 Use Adobe Acrobat Reader 7 or higher.
Layers and buttons will work with this program.
You can download the newest version of Adobe Reader here:
http://get.adobe.com/reader/