The hunter's House
Battlemap
"Two weeks ago, you began your journey through the forest, but it seems you've become lost.
You're tired and almost out of supplies, but the strange sounds out in the darkness don't allow you to rest.
You're just about to give up and face the thoughts of death when suddenly, a little light flares up in the distance.
You hope it's not an orcish campfire or something more ghoulish, but have no other choice but to check it out."
This set contains the following:
a large map with the hunter's house and its environment broken into pages
loft, cellar, and roof. - poster sized color jpg images
Image format:
Base size: 24x24 inch, 200 dpi, U.S Letter, PDF with layers
The Battlemaps now contain the maps also in poster size, so you can print them out in the best quality and fit them together.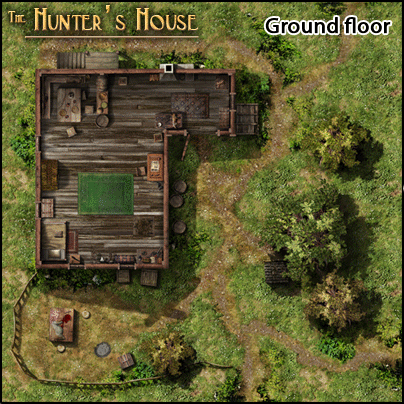 You need Adobe Acrobat reader 7 or later.