Super-Powered: Knights of the Pentangle
Super-Powered: Knights of the Pentangle
The Knights of the Pentangle Return to Fight Evil alongside King Arthur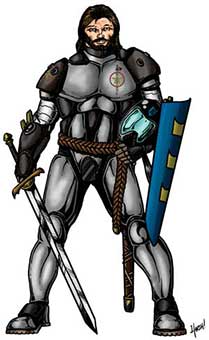 Another offering in Misfits Studios' Super-Powered series for the Savage Worlds rules, The Knights of the Pentangle details the returned Once and Future King of the Britons and his new reincarnated knights. Together again, these heroes fight for justice across the United Kingdom (and abroad.)
Within the Knights of the Pentangle PDF you will find:
5 new Hindrances: Flashbacks, Hot Tempered, Man-out-of-Time, Meddlesome, and Past Life.
6 new general power modifiers: Alternate Resistance, Enhanced Knockback, Fatiguing, Increased Range, Source, and Test Required.
3 expanded powers: Attack, Melee; Copycat, and Heightened Senses, and 3 new powers: Dazzle, Postcognition, and Precognition
Game stats for Camelot, King Arthur (and Excalibur), Merlin, and other reincarnated Knights of the Pentangle: Galahad, Gawain, Guinevere, Lancelot, and Tristram. Also included are suggestions for other Knights the players could use as characters.
The Holy Grail.
The villains, Mordred and Morgan Le Fay, as well as two variations of the latter's deadly creations, the Fay'nabolg.
This game references the Savage Worlds game system, available from Pinnacle Entertainment Group at www.peginc.com. Savage Worlds and all associated logos and trademarks are copyrights of Pinnacle Entertainment Group. Used with permission. Pinnacle makes no representation or warranty as to the quality, viability, or suitability for purpose of this product.
This product is compatible with material found in the Super Powers Companion (Second Edition)